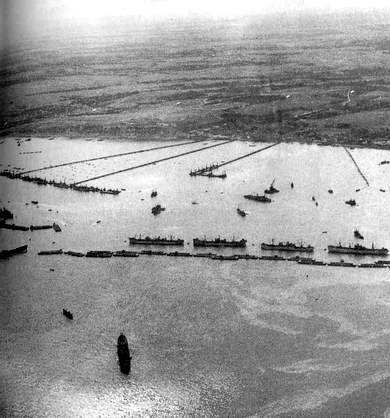 Arromanches is a seaside village in the center of the Gold Beach invasion area that became an artificial port – called Mulberry Harbor after the inventor of its massive concrete caissons – through which many of the vehicles, supplies and equipment were transported to the newly established invasion front.  The Normandy invasion beaches lacked adequate existing port facilities.
Other ports were too heavily defended by German forces.
The British command, including Winston Churchill, set about planning the construction of the components of the harbor which were transported across the English Channel behind the combat invasion forces on D-Day.
The resulting steel and concrete structures are still recognized as one of the most impressive feats of military and civil engineering, the concrete remnants of which can still be seen in the bay at Arromanches.