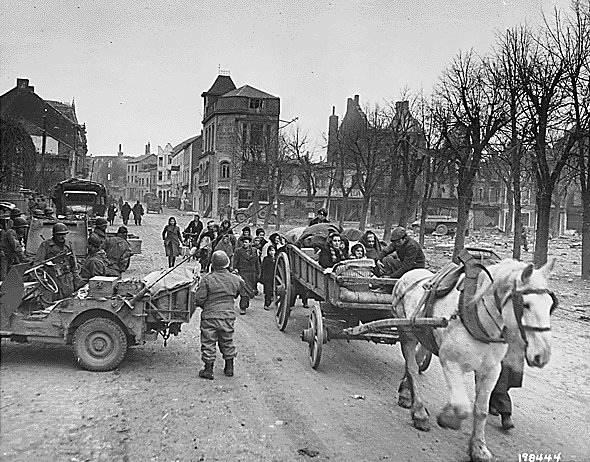 By December, 1944, the Allies had recaptured much of Belgium from the Germans who had occupied this small country (about one-fifth the size of Wisconsin) since early 1940.  Bastogne lies in the heart of the hilly Ardennes Forest, which the Allies assumed would notbe a region in which the Germans would likely launch a counteroffensive.  They were wrong.  Bastogne possessed a junction of roads that was a key strategic advantage to controlling the whole region and the advancing Germans wanted this intersection badly.
On December 16, more than 250,000 Germans attacked along a 60 mile front into Belgium known as the "Battle of the Bulge".  Unable to recapture Bastogne and its crossroads, the Germans pushed around and past the village – their goals were to divide the Allied forces and capture the city of Antwerp.  On December 21, with the German army surrounding the village, they asked that the Americans surrender, which was promptly turned down by the famous reply of "NUTS!"
The 101st Airborne Division which was positioned in and around the Bastogne area held their ground through intense fighting until skies cleared on December 23, allowing airdrops of badly needed food, medical and ammunition supplies.  The siege ended by December 26 with the arrival of Patton's Third Army.
The Battle of the Bulge is forever associated with Bastogne.  However, armed conflict encompassed a massive area throughout the Ardennes involving hundreds of towns.  Over 75,000 American soldiers were killed, wounded or missing and about the same rough numbers for the Germans.